Thai Spice Kitchen brings lots of heat with a pleasant price point and eager-to-please attitude. They should spice up the Southpoint lunch scene and leave plenty left over for dinner.
The Times Union wrote: "Two can easily dine for under $25, including starter, entrees, dessert, beverage (no alcohol is available), tax and gratuity".
Read more at Jacksonville.com: http://jacksonville.com/entertainment/food-and-dining/2013-07-31/story/restaurant-review-lots-nice-spice-thai-spice-kitchen#ixzz2bDWXugBP
Appetizers
CRISPY ROLL 4.00
THAI SPICE  ROLL 4.50
CHICKEN SATAY 6.00
FRIED TOFU 5.00
GOLDEN MONEY BAG 5.00
THAI CHICKEN WING 6.00
SIAM FRIED CALAMARI 6.00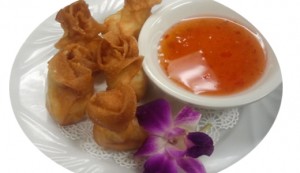 Golden Money Bag
Warming Up Starter (Soup)
  TOM YUM SOUP ( THAI HOT&SOUR SOUP )*
Chicken ………….. S4 / L 6.50              Shrimp or Seafood .5.50 / L 8.50
  TOM KHA SOUP (COCONUT HERB SOUP )
Chicken or Tofu …………………………………………………….. S4 / L 6.50
Shrimp or Seafood ………………………………………………… S5.50/ L 8.50
THAI WONTON SOUP ……………………………………………..S3.50 / L 6.00 
GANG WOON SEN ( Clear noodle soup) ……………………. S3.50/ L 6.00
THAI NOODLE SOUP
BEEF NOODLE SOUP ……………………………………………… 7.50
Beef soup with bean sprout, scallion, cilantro, basil, beef ball, slice then beef and roast garlic
CHICKEN NOODLE SOUP ………………………………………… 7.50
Clear chicken soup with bean sprout, scallion, cilantro, white meat chicken, Thai broccoli and roast garlic
PORK NOODLE SOUP …………………………………………….. 7.50
Clear soup with grillpork, scallion, cilantro, bean sprout and roast garlic come with wide noodle
TOM YUM EGG NOODLE SOUP Shrimp / Seafood ………….. 8.95
Tom yum soup with egg noodle, scallion, cilantro, jalapeno, bean sprout, tomato, dry chili , mushroom and basil
DUCK EGG NOODLE SOUP ………………………………………..9.95
Roast Duck with egg noodle and delicious duck au jus sauce.
KOW SOY ( CHIANG MAI NOODLE ) …………………………….8.50
Northern Thailand food with crispy egg noodle or  soft, shred cabbage, bean sprout, cilantro, carrot, green bean and fry scallion, choice of pork or chicken
SALADS
YUM  SEAFOOD SALAD……………………………………………………….. 8.95
Thai Yum salad fresh herb combine with chili lime sauce and lettuce Purple, mint onion, Scallion, Cilantro, Sweet Bell Pepper and Tomato.
LAAB …………………………………………………………… Chicken / Beef $8.00
Popular Lab Salad from part of North east Thailand, with refreshing favor of Chili Lime sauce combine with Purple Onion, fresh Mint, Fresh Cilantro scallion and crush roast rice.
THAI GREEN PAPAYA SALAD ……………………………………………… 6.50
Popular in most areas of Thailand, the slightly tart flavor of the green papaya, spice of red chili pepper, Thai Egg Plant, tomato, peanuts, w/ chili lime sauce.
BANGKOK WATERFALL GRILL BEEF SALAD ………………………… 8.50
This salad is based on the famous "Waterfall Beef" dish in Thailand, of splashing sound of juices falling on a hot grill. The beef is slightly grilled with a mixture of salad greens along with a special Thai dressing.
YUM WOON SEN ………………………………………. Shrimp/Seafood 8.99
Clear Bean noodle salad with Cilantro, Scallion, Purple onion ,tomato, jalapeno and Peanuts.
NAM SOD ( Chicken or Pork) ……………………………………………. 7.50
Another Popular Thai Salad Choice of Chicken or Pork prepare with Peanut, Ginger, Purple Onion, Cilantro, Thai Dries Chili & Chili Lime sauce
CUCUMBER SALAD …………………………………………………………… 3.50
Slice thin cucumber , purple onion, cilantro, scallion, shred carrot and chili lime sauce.
FRIED RICE
Chicken/ Beef/ Pork/ Tofu/ Vegetarian …………………………………….. 7.50
Shrimp or Seafood ………………………………………………………………. 8.95
BANGKOK FRIED RICE 
Stir fry with egg, jasmine rice , Thai broccoli, tomato, onion and scallion
DRUNKEN BASIL FRIED RICE
Egg, jasmine rice, tomato, sweet basil, cashew, onion and Thai broccoli, jalapeno, scallion and spicy paste
PINEAPPLE FRIED RICE
Egg, jasmine rice, tomato, cashew, onion, pineapple and scallion
ENTREES
Tofu/ Vegetarian/ Chicken / Beef/ Pork  7.50
Shrimp / Scallop Seafood 9.50 
PAD PUK RUAM (tir Fried Mixed Vegetable)
Meat stir fried w/ Broccoli, Onion, Carrot, Mushroom, bell pepper, snow peas, zuccini w/ garlic sauce
PAD MED MA MUANG (Stir Fry Cashew)
Popular stir fry in Bangkok at home or restaurant, stir fry Cashew with Onion, Red/Green bell pepper,    Mushroom, dry chili seasoning with special sauce  served with your choice of any protein
PAD KING (Sitr Fry fresh Ginger)
Fresh Strip cut Ginger stir fry with Baby Corn, Shitake Mushroom, Scallion, Onion,Red Bell Pepper
PAD PRIEW WAN (Sauteed Thai Sweet & Sour)
SautÈed meat of your choice with cucumber, tomato, bell pepper, onion, pineapple with  Thai Sweet & sour sauce
PAD PRIK GAENG (Stir Fry Spicy Paste)
Spicy paste stir fried w/ meat, onion, sweet basil, jalapeno dry chili, green bean and shredded lime leaf
AMAZING (peanut sauce)
Thai famous peanut dish served w/ steambroccolie and spinach whith your choise of protien
STIR FRY SPICY EGGPLANT
Stir fry red curry paste with Thai eggplant, bamboo, onion bell pepper and basil.
PAD PONG KAREE (Stir Fry Garlic Curry Powder)
Yellow curry powder stir fry with garlic, Onion, Red/Green Pepper, Scallion and Pineapple
PAD GA POEW*(Stir Fry Basil) Add Fried Egg $1.00
One of the most famous Thai Stir Fry Pad Ga Poew this dish can go with any Protein, Chopped Garlic, Onion, Jalapeno, Thai egg plant, bell pepper and Thai Basil with Chili Garlic Sauce
THAI CURRIES
Chicken/ Pork/ Beef/ Tofu or Vegetarian …………………………….. 7.95
Shrimp / Scallop / Seafood …………………………………………….. 9.95
RED CURRY  popular Curry in Thailand, slice bamboo, Thai Eggplant, fresh sweet basil, Bell Red/Green Pepper
GREEN CURRY*  Another popular curry, Thai Eggplant, fresh sweet basil, Snow peas, Red/Green pepper
YELLOW CURRY
The Indian influenced coconut-based yellow curry dish with potato and onion
PANANG* prevalent in southern Thailand, just across the border from Malaysia. Snow Peas, Red/Green Bell Pepper, onion and garnish with slice thin lime leaf
MASAMUN Chicken/ pork or beef.
Unique aromas, closer to the Musamun curries in India. musamun are most often prepared with beef, Chicken or pork potatoes, carrot  and peanuts
ROAST DUCK CURRY *  9.95
Gourmet perfection roast duck curry  is a unique dish of roast duck in a spicy red curry. It combines kaffir lime leaves and cook together with potato, tomato and bell pepper
STIR FRIED NOODLE DISH
Chicken/ Beef or Pork, Tofu or Vegetarian …………………. 7.50
Shrimp /  Squid or seafood ……………………………………. 8.95
PAD THAI 
THAILAND POPULAR NOODLE STIR FRY DISH
PAD SEE EW Stir fry wide noodle with egg, Thai broccoli & carrot
LAD NA Wide noodle with egg top with broccoli,carrot ,snow peas, mushroom garlic sauce
PAD BAA MEE JENN Stir fry egg noodle,snow pea, carrot, onion,mushroom, napa
PAD WOON SEN  Clear noodle ,egg, napa,onion, snow pea, carrot shiitake mushroom
PAD MEE Stir fry rice noodle, egg,, onion, beans prout,  green onion
PAD KEE MAOW Spicy wide noodle, egg, bell pepper, onion, mushroom, baby corn, basil, jalapeno and tomato
LAD NA MEE KOB Crispy noodle or soft egg noodle top homemade sauce mixed vegetable.  Chicken/ Pork/ Beef. 8.00 . Seafood 9.50
THAI SPICE SPECIAL
THAI SPICE ROAST DUCK …………………………………….. 12.95
LOVE ME LONG TIME ………………………………………… 12.95
CHOO CHEE SEAFOOD ………………………………………… 12.95
THREE SEASON FISH  Red Snapper …………………………….. 15.00
THAI SPICE SEA BASS ………………………………………. 17.00
SIDE DISH / SUBSTITUTE
Jasmine rice ……………………………………………………….  1.00
Rotti or substitute …………………………………………………. 1.50
Steam Noodle or substitute ………………………………………..1.50
Side of steam vegetable 1.50 or sauteed ……………………….. 2.00
Add  side of Ice cream …………………………………………… 2.00
Add side of coconut or purple sticky rice ……………………….2.50
* Extra Meat/  Tofu ….. 2.00           Seafood……….3.00
BEVERAGE
THAI TEA (with or without milk) 3
THAI  COFFE / HOT CHOCOLATE 3
SWEET/UNSWEETENED  TEA 2
SODAS 1.75 BOTTLE WATER 1.00
COKE, SPRITE, DIET COKE, ROOT BEER, CHERRY COKE
PINK LEMONADE 1.75
DESSERTS
FRIED BANNACRISPYROLL  ……………………. 3.50
MANGO  STICKY RICE (SEASON ONLY) ………4.50
CUSTARD (Wh/Purple stickrice) ………………….4.50
ICE CREAM ……………………………………….2.00
Lad Na Mee Krorb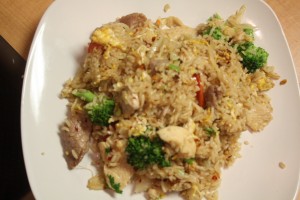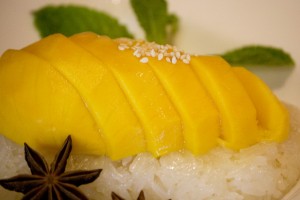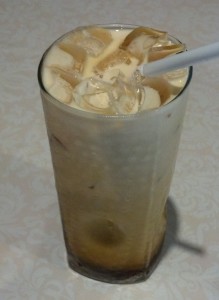 Try our Thai Spice blends a big-boy Thai Tea ($3) that's rich, thick and aromatic with milk. You'll also find Thai coffee, hot and iced tea, and Coca-Cola products.
6426 Bowden Road #200
Jacksonville, FL 32216
Phone: 904-508-0731
Fax: 904-731-0893
E-mail: thaispicejax@gmail.com
We Also Cater!